Elvis Presley | Inside Loving You
Home - Elvis Presley Photos |
Elvis Presley Movies
Loving You
Hal Kanter : I spent some time with him before he came out to do 'Loving You'; I got to know him a little.
It was when he was giving a tremendous concert in Shreveport, Louisiana -- the first of his many 'farewell concerts'. I went with him from Memphis to Shreveport, and a lot of what I observed there, I went back and rewrote and put in the picture. That was one of the primary reasons that I went to Memphis, not only to meet Elvis himself, but also see him in action and to learn as much about his method of operation as I possibly could and eventually to incorporate some of what I'd learned in the film itself. One of the things that really impressed me was the fact that we arrived in a Cadillac. Bill was driving.
And thousands of kids evidently recognized it as Elvis' car. And they swarmed around the car. And I was sitting in the back seat. They were all trying to see who I was. And of course they had no idea who I was. It was a frightening experience. Till finally, he was able to get out and say, 'Just relax, kids. That's Elvis' director from Hollywood. We're going to go to make a movie.'The evening of the concert was another eye opener to me. I had never seen so many flash bulbs in my life. The place was jammed. And the audience itself was making so much noise that they couldn't even hear what the man was singing,it was amazing.
I thought. It was absolutely spectacular even for me. The kids in the audience went crazy over him, and, as a matter of fact, I think I did get a lot of it on the screen in 'Loving You'.

Elvis Presley on the set of Loving You.

Hal Kanter : Colonel Parker amused me. Everybody else took him seriously but I found him to be a shrewd and very funny man - although he wasn't aware of how funny he was. My impression is that he was much more interesting man than Elvis was. I found him absolutely fascinating. And I would trust him across the room on anything. He was one of the sharpest con men that I've ever run across. And he was remarkable. I can, you know, I can talk about him for two or three hours which you would enjoy hearing about. But I'm not going to. Because actually I thought that he was a contributor to downfall of Elvis himself, in my view. Anyway, we shouldn't do that. Let's destroy all that. Don't, don't... Colonel Parker was a man who had Elvis' best interests at heart. But he had Tom Parker's best interest even closer to heart than he did Elvis.

Publicity Photo Wendell Corey, Lizabeth Scott and Elvis Presley.

Vernon and Gladys Presley hands Elvis a copy of Screenland magazine as Dolores Hart attends To Elvis' hair.
Ben Weisman: 'In 1957, I flew to Hollywood to finally meet Elvis'.
'Our meeting was at Paramount Studios where he was recording the soundtrack for his film, Loving You'.
'It was late in the day, and Elvis had already recorded quite a few songs'.
'During a break in the session, I noticed Elvis sitting alone in the corner of this big studio with nobody around him, ad libbing some blues on the guitar. I wandered over to the piano next to him, sat down and joined in. He didn't look up, kept on playing and even changed keys on me, but I followed along. Then he looked up with that smile he was famous for, and asked who I was and what I was doing in the studio? I told him I was invited to the session and that I composed one of the songs he was about to record called Got A Lot O' Livin' To Do. He immediately called out to his musicians,'Guys,get out out here' and on the spot they all got together again, and I was there watching, and I went back in the control room and they did the tune'. 'My friendship with Elvis developed during the studio sessions in Hollywood, to which I was always invited to attend. Since they copied my demos note-for-note, Elvis liked to have me around in case there were any problems'.
Elvis had a great sense of humor, and used to call me the 'Mad Professor'. He made the sessions fun.
Elvis was usally in control of his own recording sessions,and he usally didn't have much trouble getting a good vocal performance,but once in agreat while he would have trouble hooking it-like on the 'Loving You' session.
I remember he sang that song 'Loving You' over and over. Freddy Bienstock was in the control room watching,and Elvis just couldn't seem to get it good enough to satisfy himself.He must have had thirty two takes before he finally accepted one of them. Note, Ben Weisman would have most likely visited the Paramount Scoring Stage in the afternoon of the 17th of January 1957. Peter Guralnick in his book 'Last Train To Memphis' writes 'On the afternoon that Weisman and Schroeder arrived, Elvis was struggling with the movie's title cut, and it didn't seem like he would ever get to their song. He had already recorded the track (Got A Lot O' Livin' To Do) at Radio Recorders (on 12 January 1957), but Weisman was getting increasingly worried that the number wouldn't make it into the movie. Otis Blackwell sang on the demo record for this track.
'During the early period of those sessions, he would get so carried away, he would forget to sing directly into the mike. His close friends, the studio musicians, would start dancing around him, creating a great deal of excitement. It made a tremendous impression on me, and the feeling is still with me today. Little did I know that because of that meeting, I would end up writing fifty-seven songs for Elvis - more than any other songwriter. In my wildest dreams, I never imagined the impact he was about to make on the world'.

DJ Fontana and Elvis Presley on the set of Loving You.
Dudley Brooks : I had a lot to do with a song called 'Teddy Bear', you know, the song was unfinished, it had no bridge, you know he had the first part '. I just want to be your loving teddy bear, put a chain around my neck and lead me anywhere, oh let me be your teddy bear'.Now the next part 'I don't want to be a lion, cause lions play too rough, I don't want to be your tiger, cause tigers ain't the kind who loves enough'.
I had a lot to do with that part, I should have got a writer's credit on that.
Elvis was gonna straighten that out with me, but he never got the chance to I don't think.
Hal Wallis : 'I was fascinated by the way Elvis recorded, never bothering with arrangements, he and his boys noodled , improved, ad-libbed, and worked out numbers for hours. Finally, he would rehearse a number straight through. Night after long night I watched and listened, fascinated. I never said a word, just observed'.

Lizabeth Scott and Elvis Presley.

Lizabeth Scott, Wendell Corey, Hal Wallis and Elvis Presley.

Hal Wallis, Elvis and Hal Kanter in discussion on the Paramount Scoring Stage January 1957.

A short time later Elvis is seen leaving the stage with Hal Wallis behind him. (sunglasses in hand).

Gene Smith, Cliff Gleaves, Hal Wallis, unknown and Elvis take a trip around Paramount studios.

Elvis signs some autographs on the Paramount lot.

Elvis signs some autographs on the Paramount lot.

Loving You director, Hal Kanter, inspects Elvis' bike.

Hal Wallis and Hal Kanter present Elvis with his new 'Hound Dog' bike for use around the Paramount Studio complex.

Hal Wallis and Elvis Presley.

Hal Wallis and Hal Kanter present Elvis with his new 'Hound Dog' bike for use around the Paramount Studio complex.

Elvis Presley with a 1957 Imperial Crown Convertible.

Elvis signing autographs on the set of Loving You.

Lizabeth Scott and Elvis Presley - Paramount Studios.

Elvis at Lizabeth Scott dressing room door,Paramount Studios.

Elvis speaks to cast and crew with Hal Wallis and Hal Kanter.

Elvis playing with D.J. Fontana's drums.

Elvis playing with D.J. Fontana's drums.

Elvis and Dolores Hart on the same drum kik.

Elvis talking to director Hal Kanter with Scotty Moore in the background. Dolores Hart is pictured in the foreground.

Singer Glen Glenn and Elvis at the knickerbocker hotel, Thursday February 7th 1957.
Glen Glenn describes the photo (above) : 'That's one of the times we went up to see Elvis.
When I walked into the room, that's his living room in the Knickerbocker he was setting down, there's a divan behind, and Elvis is reading the newspaper. So, I kneeled down by Elvis
And, my guitar player walked right around and took the picture of Elvis.
Well, that's the night that Elvis played us. He had -- I call 'em dubs, but they call 'em acid tapes, of the 'Loving You' sound track. He had them all there and he had a little old record player in those days, you know, not a real nice one. And, we set there and listened to everyone of those tracks, 'Teddy Bear', everything that was in 'Loving You'. And, he also had 'One Night With You', which wasn't in the movie, but he had cut it and he kept saying, 'Man I love that song and that's me playing guitar'. Beause he was playing the guitar on that record.
And, I wish I had those dubs now, you know. But, anyway, we set there all night and played those dubs. And, he had two or three girls in there that night. I don't know who their names was, but they sat on the couch and they were setting there, just me and Elvis and Gary Lambert, my guitar player. We set there and listened to those records for couple of hours, you know. And, he kept playing them over and over and over.
Elvis, at that time, was making 'Loving You', his second movie. And, Bill Black was supposed to be there all the time because he was in the movie, he even had a speaking part in the movie. But, he wanted to go on tour with us, so he did. We went on about a four day tour and he went with us. We went up to Bakersfield and Fresno and Bill went with us. And, we'd bring Bill up on stage and Fred would say, 'This is Elvis Presleys bass player, Bill Black'. Well, half the people didn't believe that he was Elvis bass player.
And, the other half that did believe, they wanted to go up and touch him just because he was Elvis bass player. 'Can we touch you', you know, cause Elvis is hotter than fire at that time.
I mean, everybody in the world knew who Elvis was, you know.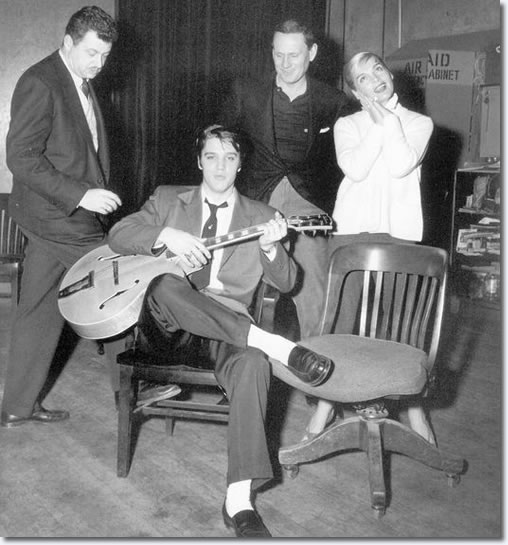 Hal Kanter, Elvis Presley, Wendell Corey and Lizabeth Scott.

Hal Kanter, Elvis Presley, Wendell Corey and Lizabeth Scott.

Monday 14th January, Elvis has wardrobe and makeup tests.

Above, Monday 14th January, Elvis has wardrobe and makeup tests.
Wally Westmore,the makeup supervisor suggested, that it being a Technicolor film 'That with his eyes he should photograph well with black hair', so his hair was dyed, and met Mr Wallis' approval.

Elvis sitting on the camera crane with the Vistavision Camera.

Elvis sitting on the camera crane with the Vistavision Camera.

More Photos From Loving You at Pete Smith's Apache Elvis

Love Me Tender

Loving You

Jailhouse Rock

King Creole

G.I. Blues


G.I. Blues Recording Sessions


Flaming Star

Wild In The Country

Blue Hawaii

Follow That Dream

Girls!, Girls!, Girls!

Fun In Acapulco

Viva Las Vegas

Roustabout


Girl Happy

Tickle Me

Paradise Hawaiian Style


Spinout


Stay Away Joe


Speedway


Charro!

Change Of Habit

Ann-Margret and Elvis Presley
Plus see each movie page at Elvis Presley's Movies for more photos of Elvis in the Movies
Home - Elvis Presley Photos |
Elvis Presley Movies
Loving You

Never before have we seen an Elvis Presley concert from the 1950's with sound. Until Now! The DVD Contains recently discovered unreleased film of Elvis performing 6 songs, including Heartbreak Hotel and Don't Be Cruel, live in Tupelo Mississippi 1956. Included we see a live performance of the elusive Long Tall Sally seen here for the first time ever. + Plus Bonus DVD Audio.
This is an excellent release no fan should be without it.
The 'parade' footage is good to see as it puts you in the right context with color and b&w footage. The interviews of Elvis' Parents are well worth hearing too. The afternoon show footage is wonderful and electrifying : Here is Elvis in his prime rocking and rolling in front of 11.000 people. Highly recommended.
Tupelo's Own Elvis Presley DVD Video with Sound.